Jan 19, 2014  "Kingfisher"  3.2 Miles,  Lock 17 to Lock 21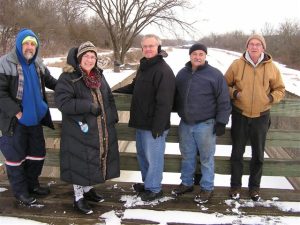 The whole trail today was ice covered with a bit of snow on top.  Our shuttle driver warned us on this but it wasn't that slippery.  It was great for the snowmobiles. Not so good if your 4 wheel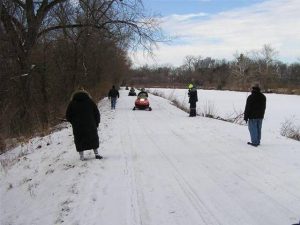 drive wasn't working.  Yes, we had strong backs to move a vehicle from the parking lot. New to our group today were Rene Robinsen from Moline and Tom Yourek from Wyanet.   For your outdoor needs, visit Tom's store close to the canal.  Completing our group were Wayne Leader, Phil St. John, and Ed Herrmann.  Unexpected creature was an opossum that we spotted running on the ice across from us.  No kingfishers this time of the year.  A few blue herons and eagles were sighted near lock 20.  The herons and eagles fish the open waters below the locks.
Feb 16, 2014  "Bald Eagle"  4.6 Miles,  Lock 32 to Lock 30
We were advised not to attempt the first stretch from Lock 32 by our shuttle driver.  Both the approach road and parking lot were bad and the trail a tangle of brush.  Hiking today were: Craig Arbet, Peru; Wayne Leader and Rene Robison, Moline; Phil St. John, Wyoming; Ed Herrmann, Spring Valley.  Gary Wagle from Galesburg chose to cross-country ski on the frozen and snow covered canal.
Our hike started on the western section of the bike path.  No one had used the path and the snow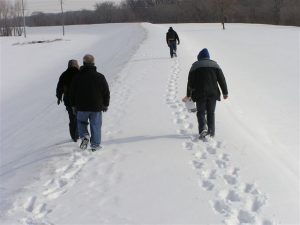 was deep.  Craig let the way and we followed in his footprints.  We met Gary at a half way point.  He told us that he had no trouble on the ice.  Snowmobiles had made a nice path which he followed across Mill Creek.  Four of us decided to take the easy route the snowmobiles made.  Craig was far ahead of us on the path around Mill Creek.  Craig never appeared on the other side!  He could not spot the snow covered trail.  A few dog walkers finally guided him to the path.  You can get lost when you can't see the trail.
There were no eagles spotted along the way as the Rock River was frozen solid.  We finally saw a few eagles at the Steel Dam.  A lone swan was noticed also in the open waters below the dam.
March 16, 2014  "Muskrat"  5 Miles, Bridge 28 to Bridge 23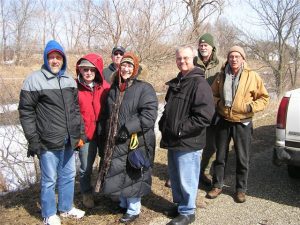 Sunny day today but with a brisk cold northeast wind blowing at us.   At a last minute decision, the group decided to shorten the hike going from Lock 23 to Bridge 23.  Joining us for the first time were Frank Ross from East Moline and John Schlegle from Spring Valley.  Gary Wagle, Wayne Leader, Rene Robinson, Phil St. John, and Ed Herrmann completed our group.  The few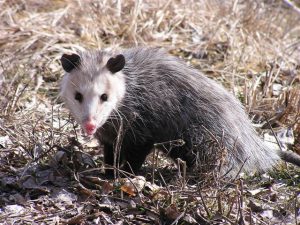 warm sunny days had melted most of the ice and snow from the trail.  Just a short shaded section and the walking tunnel under the road still had winter showing.  Most of the canal is still ice covered, no muskrats!  For the second time this year we spotted an opossum.  Not one spotted on all our numerous hikes over the years.
April 27, 2014  "Red Squirrel"  4.2 Miles, Bridge 52 to Bridge 56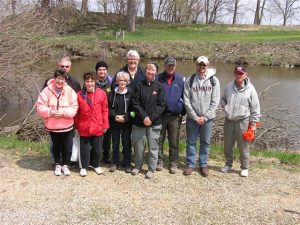 Threats of storms today but did not deter 10 hikers.  New to our group today were: Brice and Sharon Henderson, Moline; Victor and Susan DeBlock, Viola;  Doris Baele, Colona.  Completing our group were Craig Arbet, Renee Robinson, Phil St. John, Janice Dzierzynski, and Ed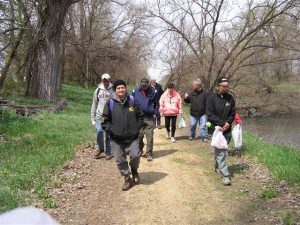 Herrmann.Light jackets were needed today as a brisk east wind made it chilly in the open areas.  Hiking down the trail, things warmed up with the trees blocking the wind.  Our group did a great job doing a canal cleanup.  Spring cleanups took place this weekend along the Hennepin Canal and other parks and cities.  We noted today that a large section of the hiking path has been widened recently.  A great improvement!  We did encounter two brief squalls on our walk today, the heavy rain hit us on the ride home.
May 18, 2014  "Water Snake"  4.8 Miles, Bridge 17A to Bridge 15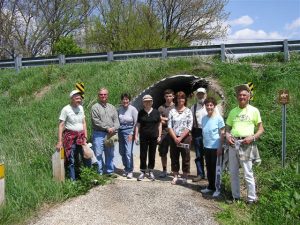 After a week of cold wet weather, a warm sunny day was welcome for our Sunday hike.  First time to hike with our group were members of the Blackburn family from Amboy and Dixon, MaryAnn, James, Romeo, and Millie.  Grandmother Blackburn was celebrating her birthday today.  Not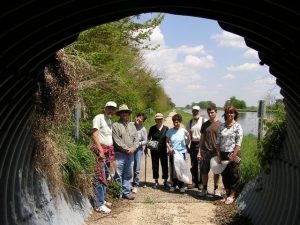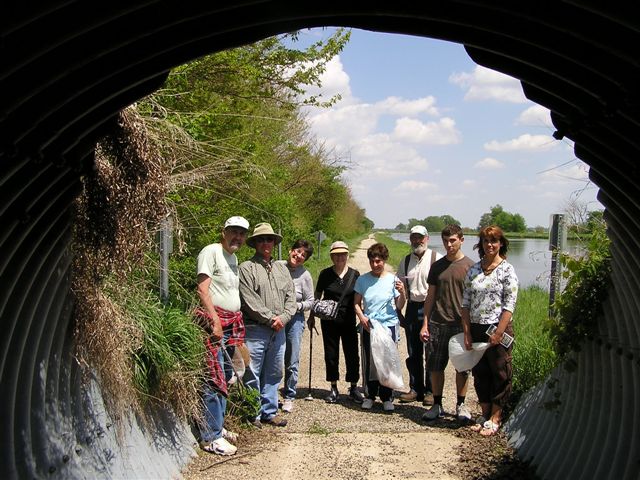 telling her age but she was 5 years older than me.  Completing our group were  Renee Robinson, Wayne Leader, Phil St. John, Janice Dzierzynski, and Ed Herrmann.
The new cameras are great for capturing the wild life along the way.  Renee got some close-ups of turtles, frogs, and orioles that she will use on her blog. She did miss the water snake!  Seems that many of us have heard of the plight of the Monarch Butterfly due to lack of
milkweeds.  On last month's hike we had milkweed seed gatherers.  I had requests from two people for some also.  Most of the milkweed pods were empty but I think we managed to find enough to supply their needs.
June 8, 2014 "Leopard Frog"  4.1 Miles, Bridge 33 to Bridge 28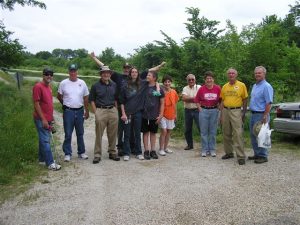 An overcast day for a hike, we did not have to worry about getting baked by the sun.  New to our group today were the Clong family, Mark, Elizebeth, and Brandon from Colona, and David Samolenski from Geneseo.  Renee Robinson, Wayne Leader, Phil St. John, Janice Dzierzynski, Gene Smania, Bill VanLue, and Ed Herrmann made a total of 11 hikers.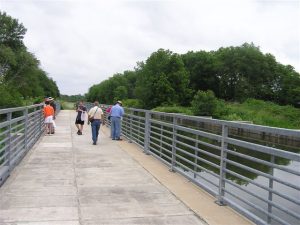 We met at Lock 23 and followed our shuttle driver to Bridge 28.  It is rather difficult to find these bridges unless you have a good Canal Map.  The bike trail is getting broken up on this section due to willows breaking through the oil and chip surface.  We were warned to check for ticks you might pick up passing along those young willows.  I found one on me, the first one of the year.  Along the way we met Joanne Gernant who was out on the canal trail for a horseback ride.  Joanne was one of the first board members with our Friends of the Hennepin.  Nice to see her again.
July 20, 2014  "White Tail Deer"  4 Miles, Bridge 47 to Bridge 50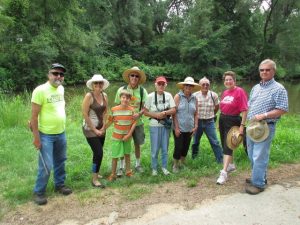 Cool breezes and shade along the trail today was much appreciated by our new hikers.  They were: Bill Davies, Anna Schwenneker and son Caleb from Moline and E. Moline; Pat Barker and Donna Obrecht from Geneseo; Kate Barton from Kewanee.  Rene Robinson, Wayne Leader, Phil St. John, and Gene Smania completed the group of ten.  Great day to enjoy nature both good and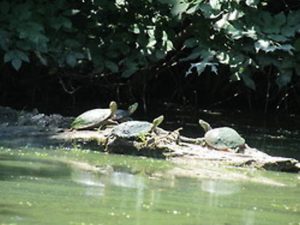 bad —  turtles basking in the sun, dragon flies flitting about, plants full of berries, and wind damaged cottonwood trees.  Representing and leading the FHC group this month was Rene Robinson.  She commented that that she did not feel like the leader as she was falling behind snapping a lot of photos which she shares with us on the web and her blog.
August 17, 2014  "Woodchuck"  3.7 Miles, Bridge 41 to Lock 29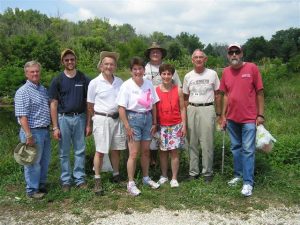 Detour !  It took a bit longer to Lock 29 as Rt. 6 was closed from Geneseo west.  Phil St. John phoned, "Wait for me, I'm almost there."  Rene Robinson, Wayne Leader, Bill VanLue, Craig Arbet, Janice Dzierzynski, Patrick and Ed Herrmann were already in the parking lot waiting.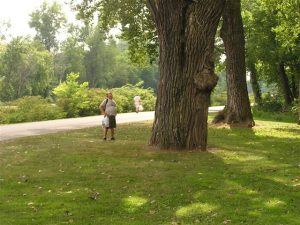 The first leg of today's hike was on the south side of the canal, a section of the bike path was closed here.  We met a lot of small frogs on this side, they liked the shade and tall grass.  Crossing over to the bike path, it was full sun for the rest of the hike.  We still marvel at the huge cottonwood trees along the canal.  The park in Colona has some good examples.
Sept. 21, 2014 "Cardinal" 4.4 Miles, Lock 25 to Bridge 37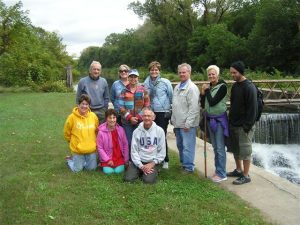 Fall weather for today's hike. New to our group were Janet Hutchins and Johnathon from Princeton, Brenda Roberts from Geneseo, and Kathy Roberts from Rock Island. Completing our group of 10 were, Phil St. John, Rene Robinson, Bill VanLue, Kate Baeton. Janice Dzierzynski, and Ed Herrmann.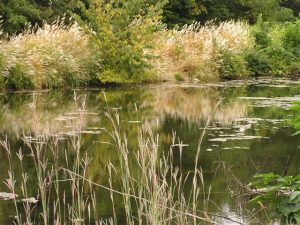 Rene and I had competition taking photos today. Janet is quite the photo bug. She even has a walking stick that doubles for a tripod. I think we all got a lot of good pictures with just a trace of the autumn colors to come.
Those of us wearing jackets and sweaters did not need them today, the trees and shrubs along the canal stopped the cool north breeze. It was only finishing at bridge 37 that we finally felt it.
Oct. 19, 2014 "Snapping Turtle" 4.6 Miles, Lock 6 to Bridge 6(Lock 11)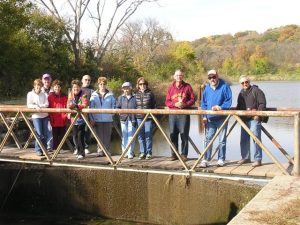 Fall colors and beautiful weather brings people out to enjoy the Hennepin Canal. Today we met many families that were out for walks and people biking. New to out group were Therese Turri from Tonica and her mother Hazel Conrad from LaSalle, and Dennis and Shirley Pacetti from Utica. Completing our group were, Phil St. John, Christi DeSmit .Gene Smania, Wayne Leader, Rene Robinson, Janice Dzierzynski, and Ed Herrmann.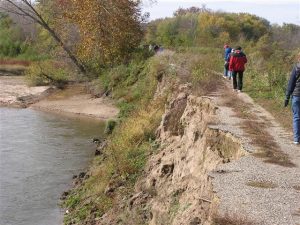 Our group got to inspect an area near Lock 6 that is desperate need of repair. Funding always seems to be slow for these projects.
Hazel from our group was very interested in all the locks for future fishing outings.
She has fished the canal many more years that I had. Her favorite areas being Lock 22 and the feeder at Rock Falls. I hope a few of the locks we passed today met her approval.
Nov 16, 2014 "Mink" 5.7 Miles, Bridge 23 to Lock 22
What a change in the weather since last month's hike, today we are in artic blast! Green leaves are still to be seen but ice now covers the canal. We welcome Loren Beck from Rock Falls to our group today. He has already walked the whole feeder canal the past year and now is checking out more of the canal.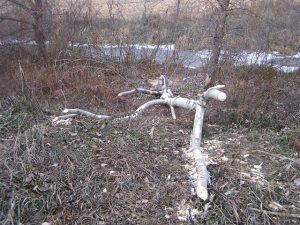 Completing our group were, Phil St. John, Wayne Leader, Rene Robinson, Janice Dzierzynski. and Ed Herrmann. The work of some busy beavers are noticed along the way. Even a larger tree was felled and its branches already taken to to the beaver's lodge across the canal. After two and half hours, we were all glad to finally spot Lock 22 and our cars.