Spirit and Imagination Will Save our Canal
The 104.5 mile Hennepin Canal provides a gentle gateway to nature at a slower pace. This rustic old waterway, flowing through five counties of farmland and prairie, passes a dozen or more nearby rural villages and towns. Its grass-lined tow path and the recreational trail provide opportunities to fish, bird watch, boat, bicycle, picnic, ride horseback,   walk and commune with nature.
Imagine enjoying all this while traveling by boat, easily passing through vintage locks, from Rock Falls to Geneseo and back. The idea of having a navigable Hennepin Canal, with working locks, has motivated Friends since organizing in1998. By restoring only three locks, (L.22, L.23, 24) boaters may travel without portage through three rural counties and leisurely cruise fifty miles of quiet countryside.
Just as restored canals are economic resources in Europe and Canada, canal cruising on the Hennepin can become an equally valuable tourist pursuit that is unique in the United States and especially to the Midwest.
The Friends have taken the initial steps in what we call Renaissance Hennepin Canal. We have established a working relationship with the IDNR and conduct ourselves under that state agency's guidance. With the IDNR's assistance, we have sought an engineering feasibility study, technically called a Historic Structure and Condition Report (HSCR), and have selected an architectural and engineering firm to conduct this work. Recently, the Internal Revenue Service granted the Friends 501c3 status, which means all monetary support given to this project is tax-deductible.
The lock restoration will be privately funded, using donations and grants. These efforts will be conducted by the Friends of the Hennepin Canal organization. There are no plans to use tax-generated funds.
The Hennepin Canal is one of the best kept secrets in the United States. It offers history, beauty, recreation and even romance. As the voice said in Field of Dreams, "build it and they will come". The Friends have the vision and plan for building.
Phase I:
.Identify an architectural/engineering firm to perform a HSCR. (completed)
 .Fundraise for HSCR Report (has begun)
Phase II:
.Review of HSCR with IDNR and the Friends of the Hennepin Canal Board
 .Fundraise for total restoration to the locks.
Phase III:
.Construction Phase
  —————————————————-
News Articles from the Tuesday, October 12, 2010
Hennepin Canal Restoration Media Event
A renaissance for the Hennepin Canal
Geneseo Republic 
http://www.geneseorepublic.com/
Thursday, October 14, 2010 By Lisa Depies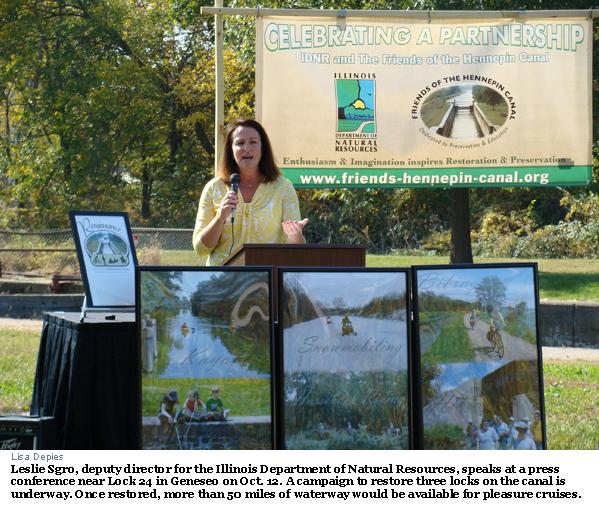 Geneseo, Ill. — With a little renovation, Hennepin Canal supporters envision the man-made waterway becoming a popular tourism destination.
Members of the volunteer organization Friends of the Hennepin Canal are working with Illinois Department of Natural Resources officials to restore three locks on the canal.
Once restored to working order, pleasure boats will be able to cruise the canal.
"Our models are the highly successful canal systems of England and others parts of Europe," said Friends of the Hennepin Canal president Gary Wagle.
"Our canal is old and fragile. If it breaks, it will probably be gone forever. We don't want that to happen. We want a renaissance, a rebirth of sorts, to make the canal an important community asset," said Wagle.
Slated for renovation as part of a Renaissance Hennepin Canal project are Locks 22, 23 and 24. The three locks represent a small portion of the 29 locks on the canal, but encompass a 50-mile stretch between Sterling/Rock Falls and Geneseo.
"That's 50 miles of countryside, leisurely travel," said Wagle. "An entire tourist industry could blossom along this corridor."
Renovating each lock could cost between $350,000 and $650,000 per lock, said Todd Sieben, a member of the Renaissance Hennepin Canal project's steering committee.
The group hopes to raise an initial $80,000 to cover the cost of creating a historic structure report/engineering feasibility study and administrative costs.
The services of Johnson-Lasky Architects have been retained to generate a historic structure report.
Johnson-Lasky Architects specializes in historical work, said company owner Walker Johnson.
At a press conference near Lock 24 in Geneseo on Oct. 12, canal supporters spoke of plans for the century-old waterway.
"Recreational tourism means dollars and jobs. There's a bright future here with this," said State Rep. Donald Moffitt.
"This is one of the most exciting projects I've been involved with in my lifetime," said Sieben. "The
potential here is huge. People want this type of canal experience."
Leslie Sgro, deputy director of the Illinois Department of Natural Resources, told the crowd of 35 her department supports the project. "This is a wonderful idea for a true reinvention of this canal," she said. "With this vision, the canal will be an even better tourism and economic tool for this region.
"You have a renewed and constant commitment from the IDNR to work with you and be a good partner," said Sgro.
Friends of the Hennepin Canal has received 501(c)(3) designation in order to allow all donations to be tax deductible.
"We're at a critical point in the canal's history. We want to make this so generations can enjoy the canal for another century," said Wagle.
—————————————————–
Group has big plans for Hennepin Canal restoration
 News Tribune  
http://www.newstrib.com/
Thursday, October 14, 2010 By Goldie Currie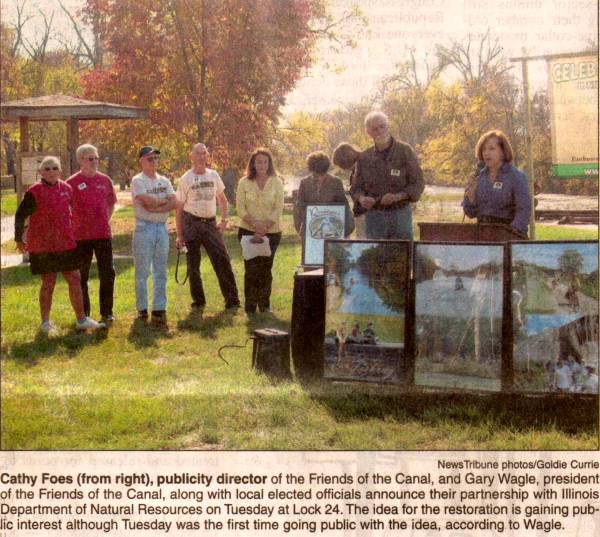 Geneseo, Ill. —The Friends of the Canal, a volunteer organization that works to maintain Hennepin Canal, announced a partnership of support with Illinois Department of Natural Resources for the "Renaissance Hennepin Canal Restoration Project" this week at Lock 24 at Geneseo.
The Friends would like to make the canal a major commercial asset to the community. The restoration project" would restore locks 22, 23 and 24 with the hopes of reopening 50 miles of the canal as an operating waterway. That stretch would begin in Rock Falls at Lock 33 and end at Lock 24 in Geneseo.
"The inspiration behind the renaissance Hennepin Canal project is a result from the outpouring of support for the canal during the 2007 centennial celebration and the threat of 2008 state park closures," said Gary Wagle, president of the Friends of the Hennepin Canal.
"Due to declining resources and despite the efforts of an overworked IDNR staff, our fragile canal has eroded to the point that once again its future is in jeopardy," said Wagle.
"Our canal is old and fragile. If it breaks, the canal will be gone forever. We do not want that to happen," he continued.
An entire tourist industry could blossom with the project, including bed and breakfasts, farms, restaurants, boat and bike rentals, and other entrepreneurs that would join those that already exist, proponents of the project said. With operating locks in its west-central portion, Hennepin Canal would have a resource unique to the Midwest that would attract tourists possibly from all over the United States, according to Wagle.
"I think with this vision it will be even better that we can return the canal to what it was supposed to be, which is a tourism and economic development source for this region. I think with the help of The Friends of the Canal we are well on our way to making that a reality," said Leslie Sgro, DNR deputy director.
The Hennepin Canal can draw users from a large area, and tourism means dollars into our community, proponents say.
"There is a bright future here with this," said state Rep. Don Moffitt (R-Galesburg).
According to a Friends press release, phase one of the restoration includes creating a "Historic Structure Report and Condition of the Hennepin Canal Waterway." The cost of the report is $80,000, and the Friends organization has hired Johnson Lasky Architects from Chicago to provide the assessment of costs and repair work to realize the Renaissance Hennepin Canal Restoration Project goal.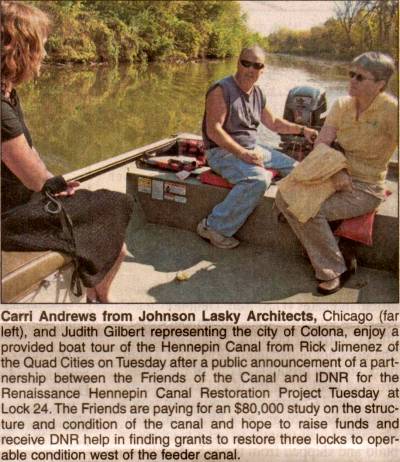 Funding for the project will be done privately and through grants. The state will be a partner in helping the Friends find grants. Contributions to the project can be tax-deductible.
"We are hoping to raise funds by May and as soon as the funds are raised it will take about three months to complete the study, and we are hoping by next fall that we have another report," said Cathy Foes, publicity director.
"If we have the spirit to pursue Renaissance Hennepin Canal, generations may benefit and enjoy this treasure for another century," Wagle said. "If we lose water, we lose this canal."
Goldie Currie can be reached at (815) 879-5200 or ntprinceton@newstrib.com
—————————————————-
Officials: Restoration will transform Hennepin Canal into tourism destination
 Dispatch/Argus Quad-Cities Online
http://www.qconline.com/
October 12, 2010, 6:56 pm By Bob Groene
A group including elected officials, Ill. Dept. of Natural Resources officials, Friends of the Hennepin Canal members and interested people gathered along the bank of the Hennepin Canal northeast of Geneseo yesterday morning to hear the anticipated announcement of a partnership of support for The Renaissance Hennepin Canal Restoration.The Friends of the Hennepin Canal and the Illinois DNR announced that the goal of Renaissance Hennepin Canal is to rehabilitate three long-time non-functioning locks, No. 22, 23 and 24, into historically accurate working condition. When complete, this will transform a 50-mile stretch of the national historic landmark and state park into a continuous operable waterway reaching from Geneseo to Rock Falls."The Hennepin Canal, completed in 1907, was a commercial failure—it never functioned well as a commercial transportation waterway," said Gary Wagle, president of Friends of Hennepin Canal. "But, even more importantly, it has become a significant jewel of the Illinois park system—a 106-mile long aquatic greenspace used by thousands of people for many forms of outdoors recreation."Renaissance Hennepin Canal will add even more use to that by becoming a tourism destination. Our plan is that boat cruises will attract visitors. For our model we looked to Europe and their many successes with canal restoration. We plan to mirror that."Initially the Chicago architechural firm of Johsnson-Lasky, experts in historic restoration/preservation, has been hired to perform a $60,000 study of what needs to be done hand how it should be done to accurately refurbish the three locks. Following that, it is hoped that construction contracts be let for the work that could cost $350,000 to $650,000 per lock."This is exactly what a partnership should be," DNR Deputy Director Leslie Srgo said in praise. "The Hennepin Canal folks have handled this perfectly and we at the DNR pledge a constant commitment to partner with them."Retired Illinois State Senator Todd Sieben of Geneseo, a strong supporter of the project, spoke of personal experiences on the Hennepin canal."I learned to fish, swim and water ski right over there," he said pointing to the west. "And in high school there was a place along the canal where we'd take our girl friends to watch the submarine races," he added chuckling."On a serious note, this is wonderful partnership between the Friends of the Hennepin and the DNR which will preserve and enhance the canal for future generations to enjoy. The Hennepin is an American treasure worth saving and restoring."
For complete information on the Renaissance project go to www.friends-hennepin-canal.org or call Friends publicity director Cathy Foes (309) 751-7209.