January 15, 2012  "Snapping Turtle"  4.6 Miles, Lock 6 to Lock 11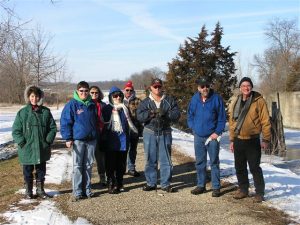 We welcomed Roy Wasielewski from LaSalle and Carol Gugerty from Princeton for the first time to our hiking group.  Completing the crew were Kim Jalley, Wayne Leader, Janice Dzierzynski, Ann Pomatto, Ken Boquist, and Ed Herrmann.  Great day for a January hike, sunny day, a bit of snow, and not too cold!  We were not the only ones at the canal today.  A  photographer from the BCR newspaper was also at lock 11 and took photos of our group.  Our picture appeared in the BCR the following Tuesday.  Several pet owners and their dogs were also walking the canal path today.  I had a call from someone that asked if dogs were permitted on the hikes.  Yes, we have had dogs on our hikes, but maybe a boxer and a beagle may be a little difficult to shuttle.  We have had sled dogs do our winter hikes in the past but the owner was able to provide the transport to and from the hike for the dogs.  Note, the last leg of our hike the wind picked up and it got a little nippy.  All were glad to be back at our cars.
Feb 19, 2012  "Bald Eagle" Hike  4.6 Miles, Lock 32 to Lock 30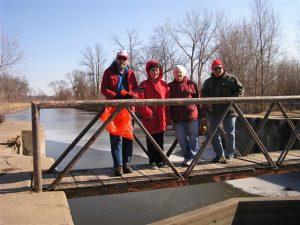 Hiking today were Wayne Leader, Janice Dzierzynski, Barb Mueller, Gene Smania, and Ed Herrmann.  Warning – the parking area at lock 32 was a mud hole.  Our shuttle driver let us out at the top portion and then backed out.  Sunny and a spring like temperature has brought a lot of activity to the canal today.  Very little ice on the waters has brought out fishermen. No snow has attracted a lot of folks walking with their dogs in the grassy areas.  In all our February hikes have we seen so many joggers and runners. I did not expect to see many eagles today with the open water on the Rock River but they were there.
The eagles that were perched in the trees ahead of us flew across the river before we could get close.  We talked too loud!  This year we came prepared with extra garbage bags.  Last year we did not have enough.  Yes, we did fill them.
March 18, 2012  "Red Squirrel" Hike  4.4 Miles, Bridge 52 to Bridge 56.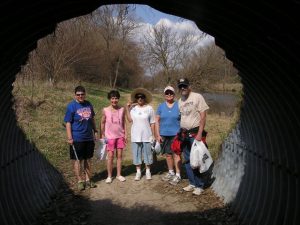 Yes, it is still winter, but check out how we are dressed for today's hike.  Wayne Leader, Janice Dzierzynski, Carol Gugerty, Kim Jalley and Ann Pomatto joined in today's walk.  Unwelcome to me, a sunning snake on the path and a bubble bee that liked my green t-shirt.  Someone found the canal a convenient dumping ground.  At bridge 52 we found a TV on the canal bank.  A second one was spotted floating further down the feeder.  Old car tires were dumped in a drainage ditch near a feeder access parking lot.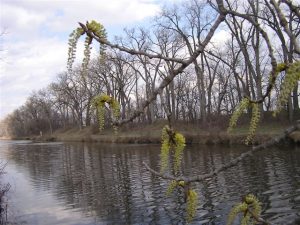 We noticed at least 4 other tires floating in the canal as went along. We did not pick up tires but filled our bags with plenty of cans and bottles. Three hikes for 2012 and great weather for each!
April 15, 2012  "Leopard Frog" Hike  4.1 Miles, Bridge 33 to Bridge 28.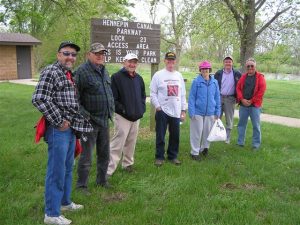 A warm day but severe storm warnings for this afternoon's hike.  The group opted to shorten the hike.  Hiking today were Wayne Leader, Gene Smania,  Richard Rahn, Ron Obrecht, Bill VanLue, Ann Pomatto, Ed Herrmann, and two new hikers, Bob Ganze from Spring Valley and John Elson from Mendota.  No shuttle driver today but Bill let the group to Bridge 28.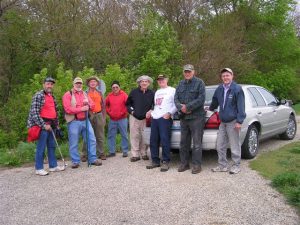 I don't know what a leopard frog looks like but we did spot a lot of big green ones along the way.  The storms never came and 5 of the fellows went the  mile and a half farther to lock 23 where they had left their cars.  We did pick up a small amount of garbage that we took back with us, no trash cans at bridge 28.
May 20, 2012  "Cardinal"  Hike  4.4 Miles, Lock 25 to Bridge 25.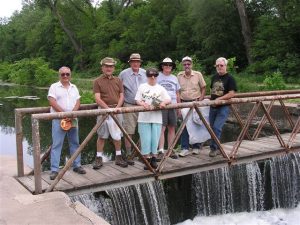 A warm day for this afternoon's hike. Trees blocked most of the south breeze so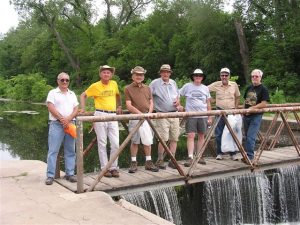 it was warmer in spots. Hiking today were Wayne Leader, Gene Smania,  Richard Rahn, Ron Obrecht, Bill VanLue, Ann Pomatto, Ed Herrmann, and Craig Weber.  Last time we hiked this section was in June of 2010 and we were sampling raspberries and mulberries.  Looks like it will be a supper crop of raspberries and blackberries next month here.  Mulberries are early this year and were already ripe. Silt has made the canal rather shallow in this section.  That was no hindrance for one fellow in a kayak paddling past us. The crew that worked on last month's canal cleanup did a great job here as we found very little garbage.
June 10, 2012 "Woodchuck" Hike 3.7 Miles, Bridge 41 to Lock 29.
The Lock 29 large parking lot was full. Lots of people using the boat ramp to get out into the river on this warm afternoon.
Dean Kopp and his grandson, Brandon, from Kewanee joined us today. We almost left without them as being new to the hikes. The spotted me with the signup sheet as I was returning things to my car. Janice Dzierzynski, Gene Smania, Bill VanLue, and Ron Obrecht completed our group.
After a hip replacement surgery two months ago, Janice was again ready to hike (we did take it slow).
This section in the Colona area is well used. The area has a lot of benches, picnic tables, and rest rooms with running water. We also sampled raspberries along the way.
July 15, 2012  "Woodcock"  Hike  3.5 Miles, Bridge 33 to Bridge 37.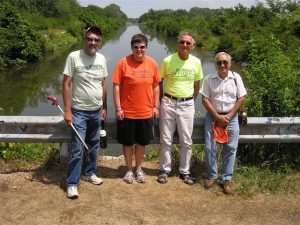 Might be a tad too hot for a hike today for most people but 4 of us took the chance.  Wayne Leader, Kim Jalley, and Gene Smania joined me today.  Oops!  A typo in our hike directions added an additional 2 miles to our hike making it 5.5 miles.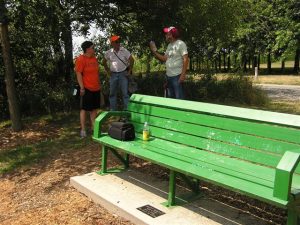 It should have been bridge 34 as a starting point.  Always a must to have enough water with you on days like this. We stopped for a few minutes in the shade by the Danny Martin's memorial bench, the bench was too hot to sit on.  It took 2 hours but we finally made it back to our cars.
August 19, 2012 "White Tail Deer" Hike,  4 Miles, Bridge 47 to Bridge 50.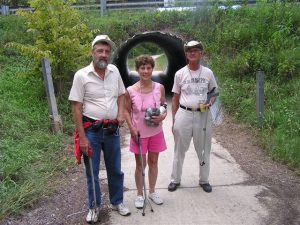 Wayne Leader and Janice Dzierzynski joined me today for our hike.  We got a slow start from bridge 47 as we picked up a lot of garbage for the first 3 blocks.  The trail was fairly clean from that point on.  Shortly after starting we heard thunder to the north of us but skies were clear ahead of us.  Several others were out today on the trail, many with dogs, enjoying the pleasant weather.  After bridge 48 is a 3 mile stretch before the next bridge.  It was on this stretch that we met a jogger.  He said he just got drenched in a fast storm a half mile down the trail.  Although we did pick up our pace, we had to stop to sample some wild plums.  A hundred yards from our cars it started to rain but we escaped the heavy downpour that followed.
September 16, 2012  "Muskrat" Hike,  5 Miles, Bridge 28 to Bridge 23.
Great to see some new faces for today's hike.  They came from Kewanee, Sterling and Tampico.  Joining me today were Wayne Leader, Bill VanLue, Richard Rahn, David Gerke, Carol Hubbs, DoJo Gibbons, and Anthony Morden. 
Beautiful weather brought out a lot of people to the canal today.  Many people were fishing, biking, picnicking, and just taking "Rover" for a walk.  Our group got a good look at Lock 23.  This is one of the locks we are hoping that might be restored to the original operating condition.  Aqueduct 5 brought back memories from the first time we hiked this section many years ago.  The group that day decided to hike the south shady side of the trail, only to find no walkway to cross on our side.  Ooooops!
October 21, 2012  "Kingfisher" Hike,  3.2 Miles, Lock 17 to Lock 21.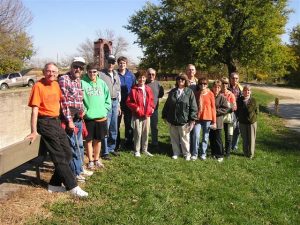 Great weather brings out the largest group of hikers for the year.  New to our group were John and Penny Lorenzen, John and Barbara Neahring, Jim and Nancy Carlson, Joyce Hochstatter, and Sheila Yourek.  Wayne Leader, Janice Dzierzynski, Gene Smania, Bill VanLue, Ron Obrecht, Brandon and Dean Kopp, Kim Jalley, Carol Hubbs, Jane Yesnowski, and Ed Herrmann completed the group of 19.  The signage for Lock 21 has been an issue in past years so to make it a bit clearer we noted it was at the Lift Bridge.  We noticed 3 cars waiting at the 2nd access road, therefore 2 group pictures.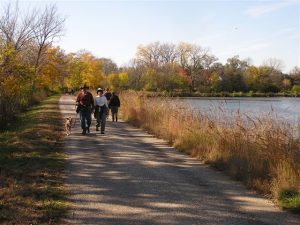 The Wyanet area hosted a variety of visitors today.  We noticed a lot of anglers, campers, dog walkers, and others taking in the fall scenery with cameras. With this Indian Summer weather, we moved at a slow pace enjoying maybe the last warm day of the year.
November 18, 2012  "Mink" Hike,  5.7 Miles, Bridge 23 to Lock 22.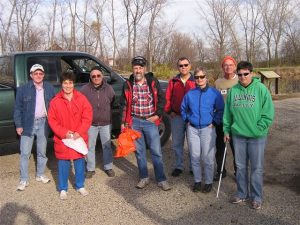 The last hike for 2012 brought us 2 new hikers, Patty and John Huff from Taylor Ridge.  Completing  our group were Wayne Leader, Janice Dzierzynski, Gene Smania, John Elston, Kim Jalley, and Ed Herrmann.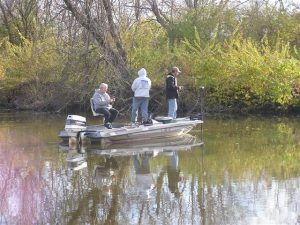 A few fishermen were out on maybe one of the last warm days before the cold comes in.  We had our orange on because of shotgun deer season.  We have in the past encountered deer hunters and deer escaping the hunters.  Very quiet today, no shots fired.  Our bright orange garbage bag came in handy today.  We filled the bag completely with plastic and glass bottles from an area east of Annawan.  We noted that we found no aluminum cans!  Kim recorded 5.9 miles walked today by a GPS devise.  It was a long day as the last of us reached  the parking lot at 4:30.