Jan. 21, 2018 "Woodchuck" 3.7 Miles 6 Hikers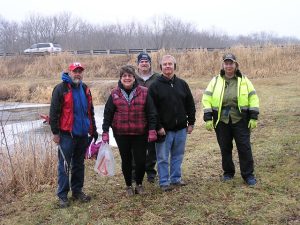 Temperature 45 above, no wind, some fog, and no ice or snow on our walking path!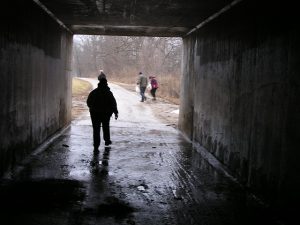 We could not ask for a better day for a hike in January. Early predictions had said we could expect rain showers. We think that scared away some hikers, there were only 6 of us today. Ice still covered the Rock River and Hennepin Canal but the snow had disappeared. With no snow along the way made it easy to spot and pick up garbage. Each of us had bags to fill and we did. The first section we hiked was the south grassy side until we reached I-80. From there we took the paved path. Going through the tunnel at the interstate was fine but the next tunnel was water filled from the melting snow.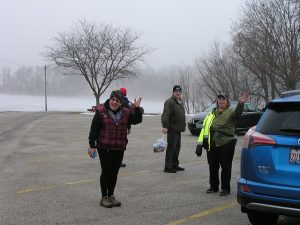 Colona has made this area along the canal a great place for many activities. Picnic areas, benches, horseshoe pits, and a baseball field nearby. Mother nature has played tricks on us in the past with bad weather, but today was great.
Feb. 18, 2018 "Bald Eagle" 5 Miles
You don't know what to expect when it comes to February weather. Temperature just above 40F but a brisk wind for our 12 hikers today. Warm weather last year brought a crowd out to enjoy the canal area, parking lots were full.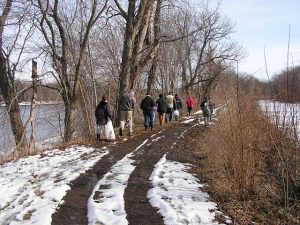 New to our group today was a Milan resident, Duane Roesner. Our first leg of the hike was nasty. The path was clear of snow but was all mud! It was too much for 2 of our hikers that had dogs, the pups had to be carried. They stopped at the first shelter. Most of the ice on the Rock River had melted but we did spot eagles. Only a few other people out today. At the end of our hike, one brave fisherman trying his luck just below the steel dam.
March 18, 2018 "Mink" 5.7 Miles (we had 6.2 miles) 13 hikers
It warmed up for today's hike, it reached 56F. Hiking with us for the first time were Kathie and Hannah McKoon from Port Byron. "Mink Hike"
and most of us saw a mink. This is the only the second time that we have spotted a mink on our hikes. We did not expect to see deer as it is mostly open farm land, but Renee and I saw a herd loping along in the bare corn field. Another sign of spring, hundreds of red-winged blackbirds were giving us a chorus. A lot of fishermen were trying their luck but none had any fish, the waters are still cold. Our crew picked up a lot of garbage, the trash can at bridge 23 was full and we left a few bags outside of the can. We are planning to make another trip to that area to clean up all we did not pick up.
April 15, 2018 "White Tail Deer" 4 Miles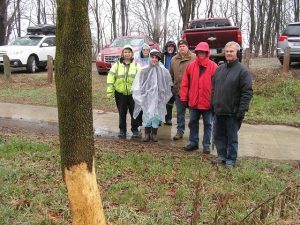 How to dress today? The temperature was just above freezing and we had drizzle on our way here. Of the nine hikers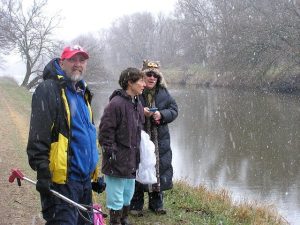 today, most put on rain gear. Our hike today was just after the Rock River group did their annual spring canal cleanup. As the garbage bags got filled, they were left along the path for later pickup. One section however was not cleaned up in the higher grassy areas. Our bags got filled too. SNOW! No rain but then the white stuff came in waves. The flakes were so large you could hardly see the hikers a block ahead of you. As in many of the hikes we came across a tree fallen over the trail. Wayne helped out with his handy saw and cleared a path.
May 20, 2018 "Snapping Turtle" 4.6 Miles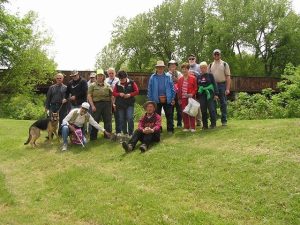 Bright sunny day for the start of our hike today. In addition to our 14 hikers, we had Rocky and Roxie, a cat and dog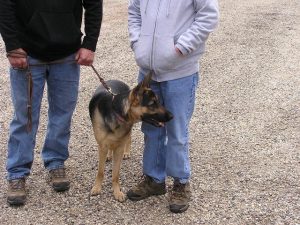 walking with us today. That is a first to have a kitty hiking along on a hike. The speedy group was led by the German Shepherd, and the trailing group had Rocky. I was in the trailing group when we heard a rumble. The weather app was checked and it said cloudy for our area. Wrong! A short time later we were caught in a downpour. A wet Rocky refused to walk and had to be carried. Later we caught up with Wayne clearing a path through another fallen tree. Some of the faster walkers did make it back to their cars ahead of the storm. Just my luck, 5 days later a group of us planned a fishing trip in that same area and got soaked again by an isolated storm.