January 17, 2016 – "Woodchuck" Bridge 41 to Lock 29 – 3.7 Miles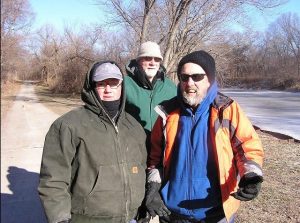 Only four hikers showed up for today's hike, Gary Wagle, Phil St. John, Wayne Leader, and Ed Herrmann. With a dangerous wind chill today, they were advising people to stay inside.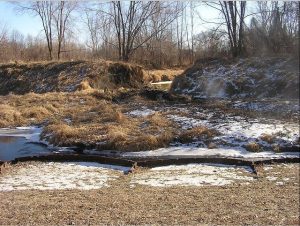 We were well bundled up but we were wise enough not to walk into that northwest wind. Instead we started our hike at the fire station just off route 84 and walked east to Dayton Corners for a shortened hike. The canal was all ice covered except for an area near lock 28 where a few geese were swimming.
Dave Hahne reported to the FHC group at our annual meeting of the major levee break in this area. Our hike today went past that break. We first noticed an island in the canal that was not there in the past. Just past that we saw the big gap in the levee where the water gushed into the canal.
No frostbite for us as we ended the hike with warm hands…Phil supplied us all with hand warmers!
Feb. 21, 2016 – "Bald Eagle" Lock 30 to  Lock 32 – 5 miles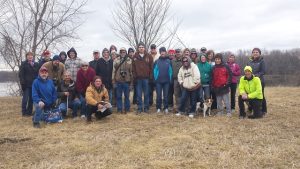 Thanks to a great article in the Dispatch and Argus newspapers we had a record attendance! 29 hikers, 2 bike riders and 2 dogs. Sorry that I was unable to get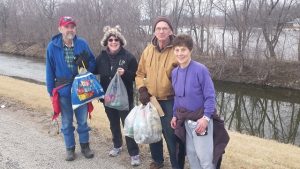 everyone's name on the sign-up sheet but then again too many to list in this summery. A representative from the Big Island group addressed the hikers today telling how this area had been cleared of trees and brush and the grass mowed through their hard work. This section has not been hiked since 2013 due to a bad road, parking lot, and the growth on the trail. The Milan people have done a great job of improvements along the trail each year and more are to come.
A section of this hike is very close to the town's businesses which we take advantage of. We spotted two of our hikers eating lunch at one of the new picnic tables along the path, they had just returned from Subway. Nice to have this warmer weather in February, but the ice on the Rock River has melted and no eagles spotted. Great hiking weather today. Last year we had 10 inches of new snow for the hike and the path was hard to spot.
March 20, 2016 – "Mink" Lock 22 to Bridge 23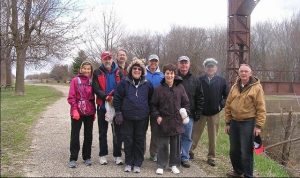 Jackets were needed today. Our sunny morning changed to an overcast afternoon with a brisk breeze from the northwest. Our group was made up of Jeff Rakus, Rene Robinson, Phil St. John, Wayne Leader, Bill VanLue, Linda and Bill Powers, Ed Herrmann, and Janice Dzierzynski.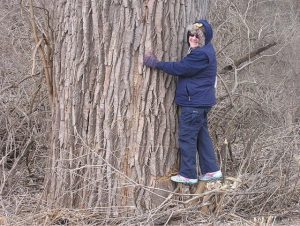 This area is ideal for boaters with ramps at Lock 22 and Bridge 23 for a distance of almost 6 miles. Aqueduct #4 is also located here. Brush clearing took place over the winter on both sides of our trail. This clearing was needed but now all the cans and bottles that were disposed of during the years are in open sight. We did fill our garbage bags but we did have to leave behind a lot that were below the tangle of cut trees.
April 17, 2016 – "White Tail Deer" Bridge 47  to Bridge 50
Great weather brings a great group of 24 to hike the feeder canal today. Checking my list of hikers I noticed that Downers Grove and Clarendon Hills were represented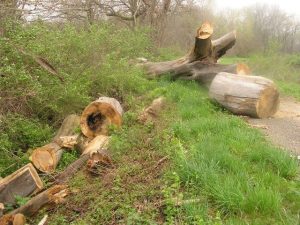 today. It was a new experience for two eager youngsters who led the group for a while. They did tucker out and had a wagon ride to the end. Last to come in today was Sophie and a smaller friend (they are dogs). Sophie has been on a few hikes with us but in cooler weather, the heat slowed her down. We all finished in good time today, no fallen trees to block our path and very little garbage to pick up.
May 15, 2016 "Snapping Turtle" 4.6 miles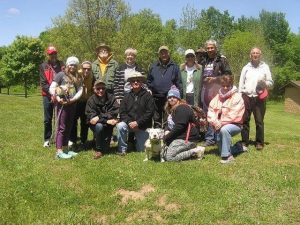 It's nice to have a beautiful day for hiking the canal as today is. Peggy Higgin and Bill Hein are new to our group of 14. The last time we hiked this section half of the bike path was falling into Bureau Creek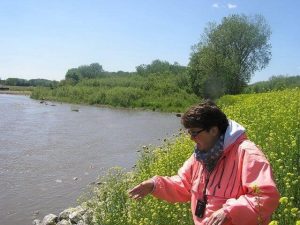 west of lock 6. The path is all restored, the creek side has been shored up, and tons of rocks line the shore below to hinder further flood damage.
We met several family groups also enjoying the park today, biking, walking, and one family in kayaks. Kayaking is getting more popular but check out the areas first before an outing. Many pools the banks are too steep for launching.
June 12, 2016 "Cardinal" 4.4 miles
Our hiking area today is just west of the Geneseo Campgrounds. Always glad to see new faces in our group of 14 today. Mike Trudell, Aisley Kask, Trish Hepner, and Angie Miller joining us for the first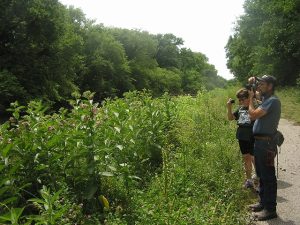 time. I noticed that Mike had an arm load of photographic equipment with him. He was able to get a photo of an evasive beaver today. These hikes provide lots of opportunities for good pictures.
Sad to see how low our maintenance crew has become for our park. Mowing this huge area had been difficult. Clearing fallen trees this year adds to their workload. Nature lovers take a different view of the mowing, lots of milkweed growing along the trail for our Monarch butterflies. Our group tries to keep our trails clean. However we were not able to tote off two TV's that were dumped near one of the parking lots.
July 17, 2016 "Leopard Frog" 4.1 miles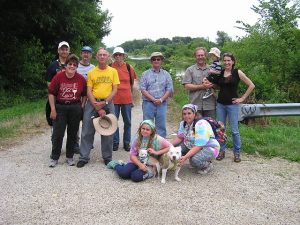 July weather, hot and humid, for our 11 hikers today. New faces in our group are the Pivovarnik family from Davenport, and Rob Mellen from Peru.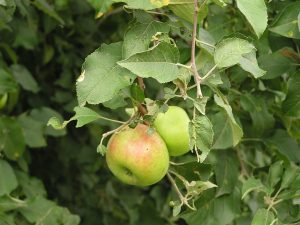 If you took the excursion on the I-M canal boat last year you could have seen Capt. Rob controlling the craft.
Only structure along the trail is aqueduct 6, no locks. The stream running under it was moving swiftly from the recent rains. I believe someone on the past was busy planting trees along that north side of the canal. One section had an abundance of apple trees, with fruit, and the following one had mainly walnut trees. No one planted them, but we did sample some late bearing mulberries. The whole area was neatly mowed. Trash was at a minimum, we only had 1 small bag of litter for the whole 4.1 miles.
August 21, 2016 "Kingfisher" – 3.2 miles, 14 hikers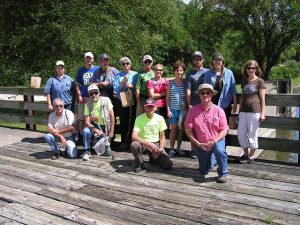 Perfect weather today for our 14 hikers. New faces in our group are Emily Kauffman and Jeff Englehart from Princeton, and Ruthie Rogers from Rock Falls.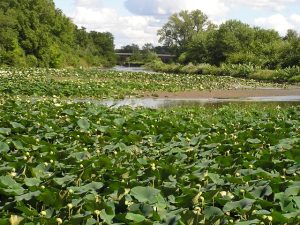 Our trail today is shared with the equestrians and is not the harder oil and chip surface. A special area is close by for those bringing their horses. This softer surface is great for two of our hikers who are recovering from knee surgery. Ruthie is still wearing a knee brace and I took a slow pace for her. All who hiked today were treated with treats for extra energy. Our bags contained an apple, a banana , and a nut bar to eat along the way.
We passed the remains of the old cement post and pole factory today. Also at bridge 9 the only one to have steps leading to the top. A stream that flows into the canal at Lock 20 has been depositing silt into the canal. Since the last time we hiked here the silted area has spread and now has an extensive growth of lotus filling the canal. It is nice to report that the area only a minimal amount of garbage.
Sept. 18, 2016 "Red Squirrel" – 4.2 miles, 15 hikers
September and the thermometer says 80 degrees. Brenda Thompson and Gayle Green from Erie are 2 of the new hikers with us today.  Also, Martha Fuller form Aledo, and from Wyanet, Camryn, (friend of Brandi C.).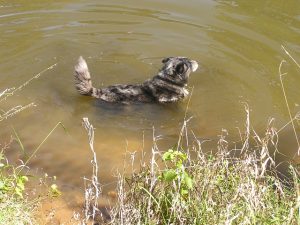 The heat was not bad as we had a lot of shade from the cottonwood trees.  We did have three dogs walking with us today.  The larger dogs seemed to feel the heat and took breaks to the water in the canal.  Martha's dog enjoyed it the most and took several swims along the way.
The mosquitoes were out in full force this afternoon. Maybe if we had a breeze they would not have found us easy targets.  They hit all of us, even those with the bug spray .
Rene had created for members, a personal "Hike Stamp & Journal Book". This 48 page booklet has all of our named hikes listed with places to write pertinent info on each.  After today's hike, a squirrel stamp was applied showing our completion.  By the way, the squirrels were not doing a good job of gathering the walnuts from today's section!
Oct. 23, 2016  "Indigo Bunting" – 4.9 miles.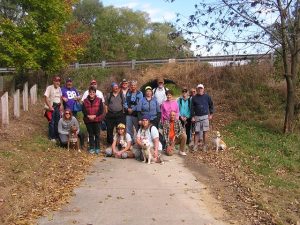 Due to a scheduling error out October hike ended up on the 4th Sunday this year.  I was hoping that with this later date we would have more fall colors.  No!  Most of the trees still had their green leaves.  Warm and sunny, it still seemed like summer.  We had 18 people on the hike and 3 dogs.  New to our hikes were Alan and Laura Abbott from Kewanee.
More people biking this area at Rock Falls.  We did have one complaint that only one biker gave us an approaching warning. None of the bikes were equipped with a horn or bell.  A lot of the younger crowd however were using a separate trail through the trees and those you could hear when they went past you.  Some of our group also walked across the Sinnissippi Dam Pedestrian Walkway.  With such nice weather this year it was hard to resist. The whole area has greatly improved since we hiked here 15 years ago.  If you tire along the way there are abundant benches for a rest.
Nov. 20, 2016  "Muskrat" – 5 miles.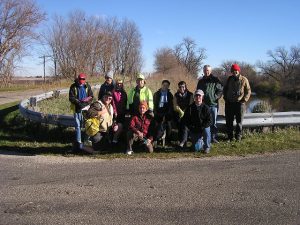 Eleven hikers today for the last hike for year 2016. Temperature did not get above 35 degrees but was nice and sunny and no wind. We did meet a few bicyclers along the path and one lone fisherman at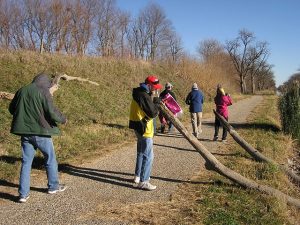 lock 23. It was at lock 23 where we noticed that icicles had formed from the spray in the lock. A good day for a swim! Martha Fuller's dog dove in twice for a short swim, the water temperature not that cold yet. The beavers were hard at work in the area. Several trees in the area were gnawed down recently. As the sun set, we finally felt the cold, on with the gloves.