January 15, 2017 "Great Blue Heron" 4.6 Miles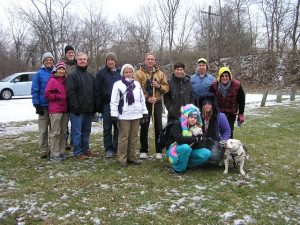 We have had a warm up the past week but not enough to melt the covering of ice on the bike path. Twelve hikes took the challenge, all have hiked the Hennepin before but not all this section. Two years ago we set a record for a January hike, similar conditions and same area, with 28 people.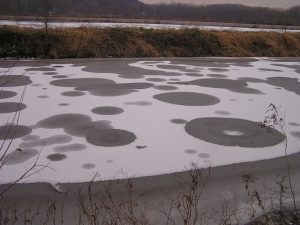 Threats of another ice storm held some hikers away today.
Eagles were spotted near the pools that had some open water. The long stretches between locks were completely ice covered. Odd designs were noticed on the ice, aliens must have made these snow circles. Hikers today were treated to hot chocolate or coffee, apple cider donuts, and cookies. That really hit the spot for a cold day!
Feb 19, 2017 "Bald Eagle" 5 Miles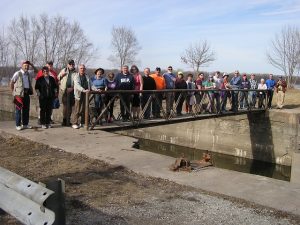 With the temperature in the upper 60's, is this still winter? We have 27 hikers today taking advantage of this warm sunny day. As we shuttled to Lock 32 we noticed that most of the canal access parking lots were full.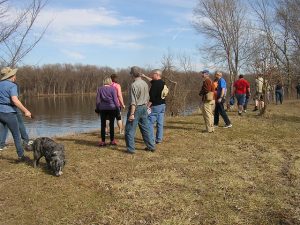 Others too were out, fishermen, dog walkers, bicyclists, and one youngster kayaking, even turtles sunning on the logs. My signup sheet showed we had several new hikers today. The cities of Oglesby and Granville were represented. The Argus Dispatch had two reporters hiking with us doing a news article for their paper. No ice on the river, no eagles! We spotted them on last month's hike at the lock 6 area. Last month we finished our hike with hot chocolate, today a bottle of cold water was welcome.
March 19, 2017 "Barred Owl" 4.2 Miles -18 Hikers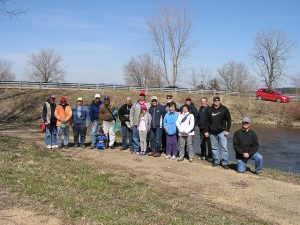 We need larger parking lots for these large groups, 19 hikers today. A trailer with 3 horses arrived and they had to park along the highway.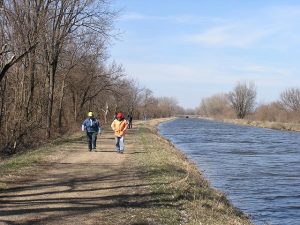 We did leave the lot almost empty when we all drove to bridge 62. Four vehicles shuttled the group to bridge 59 for the start of our hike. Another sunny day for our hike with the temperature not quite as warm as for our February outing. The trail was in very good condition. The canal crew did a great job of clearing away the brush and growth along the path this winter. Our youngest hiker, Eli, was a little disappointed as he did not see any ducks. He did see one squirrel. We did not have the Powers leading the way today but Phil was a good substitute. He had to rush to set up a table with treats at the end of the hike, we all needed that little extra pick-me-up.