January 20, 2013 "Red Tailed Hawk" Hike, 3.8 Miles, Bridge 59 to Bridge 56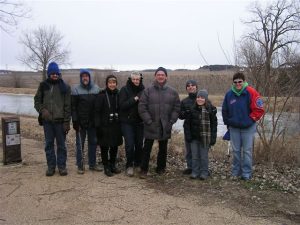 Brrrrr!  An artic blast moved in over night but we still had 8 for our hike. Joining our group for the first time were Paul and Lindsay Anderson from Sterling.  Completing our crew were Carol Hubbs, Joyce Hockstatter, Wayne Leader, Kim Jalley, Craig Arbet, and Ed Herrmann.  We moved today, just stopping at a few spots to pick up garbage.  The wind from the night before left a tree and a lot of small branches on the trail.  I was told we have a large group of fur trappers along the canal.  We noticed ribbons marking their trapping areas on the opposite bank.  Unexpected as we finished the hike – a dead car battery.  Lucky for us we flagged down Carol before she left.  Wayne had a set of jumper cables and got his vehicle running.
Feb. 17, 2013 "Bald Eagle" Hike  4.6 Miles, Lock 32 to Lock 30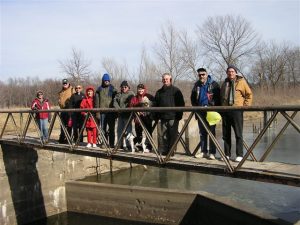 New to our hiking group today were Phil St. John from Wyoming, Lori Tigges from East Moline, and Gina Henrichs from Hampton.  Completing our group were Gene Smania, Wayne Leader, Craig Arbet, Janice Dzierzynski, Barb Mueller, Patrick and Ed Herrmann.
Several changes took place in the past year.  The bike path had been resurfaced in areas, center lines added, and the path had been expanded east of Lock 30.  Quite a few eagles were spotted in the trees and a few photographers with their telephoto equipped cameras lurked below.  A strong southeast wind keep many of the locals away even though it was a sunny day and the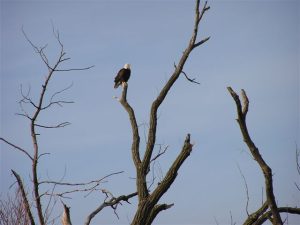 temperature just above freezing.  That wind prompted us to abandon the bike path and detour to the lower river trail. Several years ago we took the lower trail after a heavy snowfall, it was easier going in the snowmobile tracks.  Mistake this year!  The river trail was littered with fallen trees.
March 17, 2013 "Indigo Bunting" Hike  4.9 Miles, Bridge 47 to Lock 33 (Guard Lock)
Hiking today were Phil St. John , Wayne Leader, Janice Dzierzynski, Carol Hubbs, Joyce Hockstatter, John Elston, and Ed Herrmann.  Nippy today, temperature at about 32, a northeast wind blowing at us for the first 2 ½ miles.  Less wind as we headed north to the guard lock but we noticed snow and icy patches now on the path.  Yes, we did have a few slips on the ice.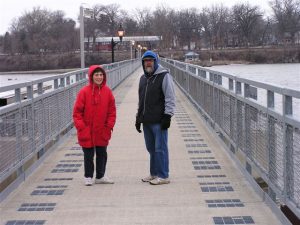 Wayne, Janice, Carol and I fell behind the lead group.  Stopping to pick up garbage the cause.  We were able to unload as there was a trash can at bridge 45.  Everything we picked up after that went home with us, no trash can at the lock.  Even though it was late, Wayne, Janice and I took an extra walk on the Sinnissippi Dam Walkway, the walkway links Rock Falls with Sterling.  A must walk if you are in the area!
April 21, 2013 "Water Snake" Hike  4.8 Miles, Bridge 17A to Bridge 15
Joining our group for the first time were Bill and Beth Uher from Tiskilwa, and Glen Lange from Princeton.  Wayne Leader, Janice Dzierzynski,  John Elston, Bill VanLue, Richard Rahn, Kim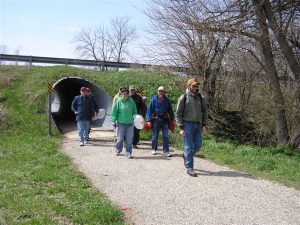 Jalley, Craig Arbet, and Ed Herrmann completed our hikers.  Hang onto your hats, we had to buck a strong wind for most of the hike.  We met no other hikers or cyclist on the trail today.  We had no problem filling our garbage sacks today.  We didn't expect to pick up so much.   It was tiring with the wind and toting the bags of litter. Spotting the I-80 bridge over the canal was a welcome sight, the parking lot was near!